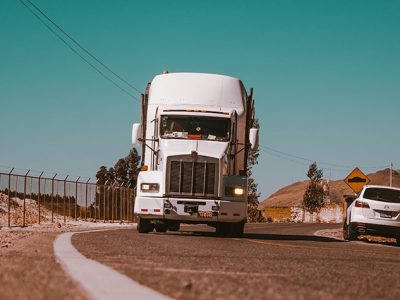 Becoming a trucker in Canada is not easy, even for an experienced driver. You need to find an employer who has the right to hire foreigners, attend a driver's school to obtain a Canadian driver's licence, as well as go through several bureaucratic procedures.
Canada is a country of great distances. Every day, thousands of trucks transport goods from the Atlantic coast to the Pacific, from the southern prairies to the northern remote territories.
Long-haul truck drivers are always in great demand, and Canadian authorities are actively looking for such workers among immigrants.
How To Find a Trucker Job: Job Fairs
One of the easiest ways to find a trucker job and to immigrate to Canada is to attend job fairs. These are events held by immigration officers and employers from various Canadian provinces, most often from New Brunswick.
Job fairs are held in different cities of the world. For truckers, such events are often organized in Poland and Ukraine, for example, in Kyiv or Warsaw.
To participate in a job fair, you need to register on Livinginnb.ca, a New Brunswick website. Before registration, you need to prepare for uploading copies of the following documents in .jpg or .pdf format:
Language test certificate, such as an IELTS certificate (with a Canadian Language Benchmark (CLB) score of 4 or higher). If you have not yet received the results in paper form, you can provide them in electronic form. If you have not yet passed the test, you can still register but you will need to explain to the immigration officer or employer that you intend to take the test in the near future.
Proof of work experience: a reference letter from the employer, preferably indicating your average salary. It is required to have a full-time (30 hours a week) paid work experience of 12 months (it is often 18 months for truck drivers).
Education credentials.
CV in English that shows you meet the requirements of the occupation.
Driver's licence.
Driver's abstract (driver's record). These are certificates with information on the date of obtaining the licence, dates of getting driver's licence categories, disqualifications, and violations (not fines). If you have many violations, it will be difficult to obtain insurance, and employers may not want to hire you.
Selected candidates will be invited to attend a job fair. Most likely, you will not be able to attend the event without an invitation.
Participation in job fairs is free. You only need to pay for travel and accommodation. You need to book your plane tickets and accommodation yourself.
At a job fair, a candidate can ask immigration officers about immigration to New Brunswick and get a job offer from a provincial employer. A job offer in this province, in its turn, allows immigrating through the Atlantic Immigration Pilot.
A job fair consists of two parts. First, immigration officers offer participants information about life in New Brunswick. After that, participants attend scheduled job interviews with employers. At a job fair, you can get interviews with several employers. If you are lucky, you will get a job offer to work in Canada.
Next Steps
To start working in Canada as a trucker, you need to follow these steps:
The employer must have a Labour Market Impact Assessment (

LMIA

). This document proves that there are no candidates for the job among permanent residents and citizens of Canada. If the employer does not have an LMIA, he has to get it. It can take about 5–6 months, sometimes longer, depending on the province.

The employer provides you with a

job offer

. 

You get a work permit issued by Immigration, Refugees and Citizenship Canada (IRCC). A work permit must be based on a positive LMIA. To get a work permit, you also need to have proof of work experience and be proficient in English.

You fly to Canada. The employer often meets at the airport, pays for plane tickets, as well as for food and hotel accommodation for 2 weeks.

You attend a driver's school, pass a driver's licence exam to drive trucks, and get a driver's licence of the corresponding category. Education costs about C$3 thousand along with exams.

You start working as a truck driver. There is normally a trial period of 4–6 weeks.

At the end of the trial period, you sign a long-term contract. 

You take your family to Canada. Children younger than 5 years old can come with a visitor visa, older children get a study permit, and your spouse needs to apply for an open work permit.
How To Get a Permanent Residence Permit
After completing all the above steps, you can apply for permanent resident status in the province where you got a job offer. Immigration programs that offer permanent residence to truck drivers include the following:
The requirements of these programs are the following:
Job offer

to work as a transport truck driver (NOC 7511) full time (at least 30 hours a week) in the province. The salary should not be lower than the average level for truck drivers in the province.

Work experience

as a truck driver: at least 6 months (in Saskatchewan), 9 months (in British Columbia and Ontario) or 12 months (in the Atlantic provinces).

Secondary school education.

In the Atlantic Provinces, you must provide an Educational Credential Assessment (ECA) issued by an authorized organization.

Proficiency in English.

You must provide IELTS or CELPIP test results with a Canadian Language Benchmark (CLB) score of 4 or higher in all four language abilities (reading, writing, listening, speaking). This corresponds to the following IELTS scores: Reading 3.5, Writing 4.0, Listening 4.5, Speaking 4.0.

Canadian truck driver's licence.
Additional licences and certificates.

You may be required to have the test results for driving a vehicle with pneumatic brakes and additional certificates (for example, a permit for transportation of dangerous goods).

Age.

To apply under the Nova Scotia program, you are required to be between 21 and 55 years old.

It takes from 2–3 months to a year to get a permanent resident card (PR Card).
Truck Drivers' Salaries in Canada
After obtaining a licence, a truck driver gets from C$3.5 thousand to C$4 thousand per month, sometimes up to C$5 thousand (before income tax). It depends on payment per mile, which usually starts from 12–15 cents and can reach 16–20 cents per mile for experienced drivers.
Truck drivers without experience get from C$45 thousand to C$50 thousand per year, those with a 5-year experience get about C$60 thousand or C$70 thousand per year, those with experience of more than 6–7 years can get C$80 thousand to C$120 thousand. According to the Glassdoor website, truckers in Canada get an average of C$60 thousand per year or C$70 thousand according to Payscale. And the average wage per hour for truck drivers is C$20.5.
Truck drivers not only get higher wages than the market average, but they also benefit from good working conditions. For example, if the truck breaks down and the driver cannot go on a haul, he will still be paid for 50 hours. Moreover, the drivers do not repair the trucks themselves. They call the dispatcher, who contacts the nearest service centre that sends a repair specialist. Canada has a strict division of labour, and no one does other people's work.