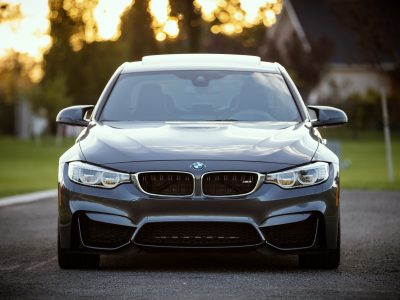 The process of buying a car in Canada can be confusing for newcomers as there are a number of things to consider: deciding whether you want to buy a new or used car, choosing a financing option, and planning all steps of the process.
Canada is a large country with plenty of interesting places and the easiest way to explore it is by car. If you like to go on hiking trips, to spend your holidays and vacations in the mountains or by a lake, it is essential for you to have a car.
If you are planning to live outside of Canada's largest cities, then a car is a truly indispensable thing as small towns have limited public transportation which is rarely convenient and is not very extensive.
Canadians' Favourite Car Models
According to Autorader.ca website, Canada's most popular used car brands include Ford, Honda, BMW, Chevrolet, Toyota, Jeep, Porsche, and Mazda, with Ford Mustang and Ford F-150 being the most sought-after models.
Ford Mustang.

This pony/muscle 2-door car includes body styles such as coupé, hatchback, fastback, and convertible

Ford F-150.

This full-size pickup truck has won numerous awards. Its trims include a luxury-oriented F-150 Platinum and F-150 Tremor, a high-performance sport truck

Honda Civic.

This compact car comes in three body styles — sedan, coupe, and hatchback

BMW 3 Series.

It is a compact executive car with the model range including a 4-door sedan, 5-door station wagon, 5-door hatchback, and 3-door hatchback body styles

Honda CR-V.

It is a compact crossover 5-door SUV (sport utility vehicle) with CR-V standing for 'Comfortable Runabout Vehicle'

Chevrolet Corvette.

This classic sports car includes two body styles — a 2-door coupé and 2-door convertible

Toyota RAV4

. It is a compact crossover SUV with RAV4 standing for 'Recreational Activity Vehicle: 4-wheel drive'

Jeep Wrangler.

It is a series of compact (Wrangler 2-door models) and mid-size (Wrangler Unlimited and Wrangler 4-door models) four-wheel drive off-road SUVs

Porsche 911.

This is a 2-door high-performance rear-engined sports car with body styles that include a coupé, convertible, Targa top, and speedster

Mazda Mazda3.

This compact car includes body styles such as 4-door sedan and 5-door hatchback
Buying vs. Leasing
Canadians normally borrow money to buy a vehicle. The most common financing options are taking out a loan or signing a lease.
A loan may be the right choice for you if you are planning to drive a lot or keep the vehicle for 5 years or longer. You can borrow up to 100% of a car's purchase price for 5 years on average.
Pros of loans:
When the loan is paid off, you own the car as an asset

You save money over the long term: compared with the lease, the loan is the cheaper option if you keep the vehicle for a longer time

You can customize your vehicle as you please

You can drive as many kilometres as you want without worrying about mileage

If you decide to replace your car, you can trade in or sell it at any time to anyone at the market price
Cons of loans:
You risk having negative equity especially when you buy a new car. If you take out a long-term loan (6 years or more), you lose money as your car will be worth less than your debt when you sell the vehicle or trade it in. By the end of the first year, your car can be worth 25% less than the price you paid and within the next 4 years, it will lose 15% to 25% of its value each year

The monthly loan payments are typically higher compared with lease payments

The warranty is limited: it can run out before you are done with it

When you decide to replace your car, you will have to deal with the hassle of trading it in or selling it
A lease may be a better option if you want to get a new car every 2–3 years. With a lease, you pay a monthly amount to a leasing company for 1–5 years. At the end of the term, you return the vehicle to the dealer or purchase it at the price listed in your lease agreement.
Pros of leases:
You get a short-time gain as your monthly lease payments are usually lower than they would be if you take out a loan. It means you can afford a higher-price car

You can get a new car every 3 or 4 years — each time your lease is up

Your warranty never runs out
Cons of leases:
You do not actually own the car (unless you buy it at the end), and you get nothing out of it once your lease is up

You are still responsible for all of the maintenance and repairs during your lease term. The vehicle must be serviced regularly, and there may be penalties for the condition of the car when it is returned

You pay more over the long term, as interest rates are usually higher on a lease compared with a loan

You always have to worry about mileage: there is often a maximum number of kilometres you can drive per year, and you may be charged for extra kilometres

You cannot modify the car in any way
Buying a New Car vs. Used
Another decision you may have to make is choosing between a new and used car. Each option has its benefits and drawbacks.
New vs. used cars
| | | |
| --- | --- | --- |
| | New cars | Used cars |
| Price | Are more expensive. And you need to pay for the starting costs, like gadgets, mats, etc. | Have lower upfront cost |
| Payment | Can be bought by cash, financed or leased | Cannot be leased, have fewer financing options, but are easier to buy by cash as they are cheaper |
| Warranty | Come with a new warranty for 3 or more years so you have coverage for maintenance and defects (excluding 'wear and tear') | Only certified pre-owned vehicles come with a warranty (which may have worn out, or it will soon). Otherwise, you have to buy a warranty as an extra |
| Condition | Have brand new condition, newest features, and options. Any defects are covered by a warranty | Are more likely to need repairs. You may not know its full history, its wear and tear, and mechanical issues |
| Where to buy | Can be bought from a dealership only. When buying from a dealer, you usually get a free inspection | Can be bought from a dealership or private seller. You have to pay for an inspection unless you buy from a dealer |
| Insurance | Have higher insurance premiums | Have lower insurance premiums |
Car Prices
Car prices in Canada are usually listed without tax. The total price you pay in cash for a new vehicle may be different from the Manufacturer's Suggested Retail Price (MSRP) as a manufacturer cash rebate, freight and government fees, as well as a sales tax (13%) apply. If you buy a car from a dealer, you need to add around 15% on top, and if you buy from a private trader, add 10%.
You can find the average market value of a car you are buying on the websites Autotrader.ca or using Globe Drive Build and Price Tool.
According to Kelley Blue Book, the average price of new cars increased from C$33,500 in 2013 to C$36,100 in 2018. And the price of used vehicles surged from C$16,900 to C$19,400 over the same period. There has been a growing demand for SUVs and trucks — and these kinds of vehicles typically cost more (around C$37,300 on average) than most passenger cars (C$25,110). A decade ago, passenger cars accounted for over 50% of new vehicle sales in Canada, but nowadays the segment represents just under 30%.
Prices can vary significantly depending on the car model.
Prices and financing options for 2019 popular models, CAD
Source: Globe Drive Build and Price Tool
| | | | | |
| --- | --- | --- | --- | --- |
| | MSRP | Cash payment (including rebates, fees, and tax) | Monthly loan payment (60 months at 3% interest) | Monthly lease payment (48 months at 4% interest) |
| Ford Mustang | 30,699 | 33,251 | 597 | 494 |
| Ford F-150 | 31,799 | 29,013 | 568 | 533 |
| Honda Civic | 17,890 | 22,131 | 383 | 268 |
| BMW 3 Series | 48,900 | 58,890 | 1,032 | 835 |
| Honda CR-V | 27,690 | 33,476 | 601 | 439 |
| Chevrolet Corvette | 65,095 | 70,326 | 1,348 | 1,152 |
| Toyota RAV4 | 27,990 | 33,838 | 631 | 472 |
| Jeep Wrangler | 35,195 | 40,262 | 747 | n/a |
| Porsche 911 | n/a | n/a | n/a | n/a |
| Mazda Mazda3 | 16,000 | 18,346 | 329 | 298 |
Steps for Buying a Car
To buy a car in Canada, follow these steps.
1. Search for a vehicle. You can buy a car from a private seller or from a car dealership. New vehicles are almost always sold through dealerships. To find cars for sale, visit these websites with listings:
When you decide on the model, you can go to the official website of the make (Ford, BMW, Toyota, etc.) to get more information on the car you are interested in.
2. Take the car for a test drive. You need to take the car you have chosen for a test drive to learn more about its performance and condition. Almost all dealerships offer test drives as a standard.
After a test drive of any used vehicle, a garage inspection or mobile mechanic inspection is recommended. In Ontario, it is illegal to sell a used car without a Used Vehicle Information Package (UVIP) that allows checking whether a car is implicated in debts or was ever rebuilt after a crash. A UVIP costs C$20 and can be ordered online or purchased from ServiceOntario. While not mandatory across other Canadian provinces and territories, similar reports are offered by private services such as Carfax.
3. Make a deal. You normally sign a contract with a record of sale (listing vehicle details and any deposit paid). The most common payment methods are via e-transfer or by cheque. The documents are typically provided by the provincial registration authorities (ICBC in British Columbia, SAAQ in Quebec, etc).
4. Buy insurance. All car owners are required to have insurance. It can be purchased from private companies. National providers include Aviva Canada, Intact Financial, and Wawanesa.
The price of insurance depends on the province, community you live in, type of the vehicle, your age, driving experience, etc.). The monthly cost of insurance starts from around C$120. Across Canadian provinces and territories, the cheapest car insurance premiums are offered in Quebec.
You may have to buy insurance for your car first and then register it or do it at the same time — it depends on the province or territory.
5. Register the car. You need to register the car in your name and buy license plates simultaneously. If you later sell the car to buy another one, you would put the same plates on your new vehicle unless it is in a different category (a truck, for instance) or unless you move to another province or territory. Registration is completed with the provincial government (Service BC, ServiceOntario, etc.). Registration of a vehicle that has plates from another province than that where you live, may cost you extra money as it is required to pass an official inspection.