Almost all Canadians are able to speak either English or French or both. English is the mother tongue of nearly 60% of the population while French is that of 22%. However, the language situation may be very different depending on the province or territory.
English and French are the two official languages of Canada. According to Statistics Canada, English is the mother tongue of 19 million, or nearly 60% of Canadians. The total number of French-speaking Canadians is more than 7 million, which is over 20% of the country's population. Over 90% of Francophones live in Quebec, Ontario, and New Brunswick.
English and French 'have equality of status and equal rights and privileges as to their use in all institutions of the Parliament and Government of Canada', according to the Constitution of Canada. This means that French can be used all across the country — but only in federal matters.
Officially Bilingual/Multilingual Provinces and Territories
New Brunswick, Manitoba, and all three Canadian territories (the Northwest Territories, Nunavut, and Yukon) have several official languages.
New Brunswick law states that French and English can be used equally, and the local residents have the right to receive government services in either official language.
In Manitoba, all laws prior to 1985 were drafted exclusively in English, but after that, the French language re-established its legal status by court order. However, in practice, Manitoba is still a predominantly English-speaking province, and government services in French are provided only in several locations. English remains the main language of courts, government ministries, and learning institutions.
Nunavut has four official languages: English, French, and two indigenous languages — Inuktitut and Inuinnaqtun. In the Northwest Territories, apart from English and French, there are 9 official indigenous languages, which makes 11 official languages in total. In Yukon, only English and French are the two official languages.
Regional Bilingualism: Ontario
Ontario has a regional language policy: part of the province speaks only English, and other areas are bilingual. Provincial services can be provided in English and French.
However, under the 1986 French Language Services Act, Ontario residents are entitled to receive all government services in French in 25 designated areas of the province. These include areas where 10% or more of the population speak French, cities with a French-speaking population of over 5,000, as well as Toronto (the provincial capital and the largest municipality of Canada), the capital region, including Ottawa, and many other cities, counties, and villages.
Officially Anglophone Provinces Providing Services in French
Most provinces have laws stating that only English or both French and English are the official languages of the courts and legislature. But these provinces may have separate policies regarding the language of education and bureaucracy.
In Alberta, English is the only official language, but the Legislative Assembly of Alberta and provincial courts have the right to use French. Laws are drafted exclusively in English, and there are no legal requirements to translate them into French. It is not required to provide medical or social services in French — it is left to the discretion of individual hospitals, clinics, and social services. However, school boards are required to offer programs in French at the request of a local advisory committee. And the official linguistic minority has the right to study in French and manage their schools.
Nova Scotia does not have a legal requirement to provide any services in a language other than English. However, there is the Department of Gaelic Affairs, whose mission is to restore the Gaelic language and culture in the province.
In Prince Edward Island, there are several schools that provide education in French. But the system of public services in French has not been developed.
Specialized French schools operate in Saskatchewan. Until 1968, English was the only official language here. Nowadays, all laws and regulations may be drafted and published in English or in both English and French. English and French can be used in the Legislative Assembly and in the courts of Saskatchewan.
De Facto Anglophone Provinces
Education in French is officially permitted in British Columbia. But in fact, there are 59 regional school boards for English-speaking education in the province and only one for French-speaking education. There is only one French-speaking college in British Columbia — Educacentre College, and there are no French-speaking universities at all. And there is no legal basis for the use of the French language in the courts and government services.
In Newfoundland and Labrador, the government offers a minimum of services in French through its website. In all other cases, only English is used, including the legislature, courts, schools, and public services.
Officially Francophone Province: Quebec
Quebec is the only Canadian province where French is the sole official language. And it is the mother tongue of more than 80% of the province's population.
Prior to the 1970s, Quebec was the only officially bilingual province of Canada, and most public institutions functioned in both languages. English has also been used in government commissions, legislative bodies, and courts. In 1974, French became the only official language of Quebec with the adoption of Bill 22. According to this bill, every person in Quebec has the right to be served in French in government bodies and business organizations.
Currently, most public services in Quebec are available in both French and English. But life in Quebec is unpredictable as there is the language police who can fine business owners for using English.
Is the English-Speaking Population Having Their Rights Infringed Upon in Quebec?
Although it is not mandatory to know French to be eligible for immigration to Quebec, it is highly recommended to learn it so that you would not feel disadvantaged here.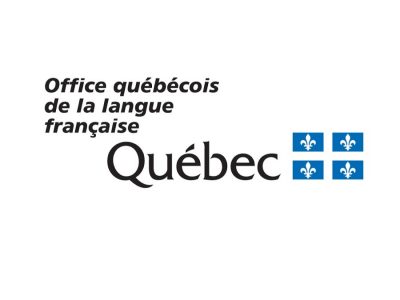 In 1961, the so-called 'language police' was established in Quebec. Back then it had the mission of ensuring the correct use of French as well as enriching the spoken and written language. Now the language police are officially called the Quebec Board of the French Language (Office québécois de la langue française).
Quebec residents who believe that their right of being serviced in French is not respected may file a complaint with the language police. The language police base their actions on Article 52 of the Charter of the French language, which requires owners of any business to publish their catalogs, brochures, and other written documents in French. The same rules apply to websites: any business that has a physical store in Quebec must have a website with a French version. Otherwise, the website may be blocked for any user in Quebec.
For instance, in 2013, this organization tried to force the Italian restaurant Buonanotte in Montreal to remove the word 'pasta' from its menu because this word is not French while the whole menu was written in Italian — Buonanotte is, in fact, an Italian restaurant.
And once the language police tried to force a boutique owner in Quebec to translate her business Facebook page (written in English) into French despite the fact that many of her clients were English-speaking.
If you are going to start a business in Quebec, be aware of this policy — it will save you a lot of money and trouble. However, it may be useful to learn French as it can help you gain points that you may lack to apply for one of Canada's immigration programs.