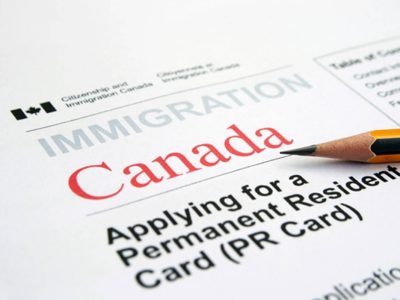 Having a PR card means having all privileges of a Canadian citizen except voting and running for political office. However, there are quite a few obligations too.
A permanent resident is someone who has immigrated to Canada and has been given permanent resident status but is not a Canadian citizen. One of the identification documents to show that you have permanent resident status in Canada is your Permanent Resident (PR) card.
Permanent Residents' Rights
As a permanent resident, you have the right to live, work, study anywhere in Canada, receive health care coverage, and more.
Get Social Benefits
Being a permanent resident means that you can get most social benefits that Canadian citizens receive, including becoming a contributing member of the Canada Pension Plan and receiving health care coverage.
Permanent residents qualify for provincial or territorial universal health care coverage starting on the day they arrive or three months after their arrival in a province or territory (it depends on the region). Most necessary medical expenses are covered, including diagnostic procedures, visits to the emergency room, drugs administered in a hospital, and more.
Live and Work Anywhere in Canada
As a permanent resident, you (alongside with your spouse and your children) can live and work in any one of the ten provinces or three territories within Canada. However, you are not allowed to hold some jobs that need a high-level security clearance.
Permanent residents are not tied to a specific employer or a province. If you start off in Saskatoon but later find a better job in Vancouver, you have every right to move.
Study in Canada
Permanent residents up to the age of 18 have the right to free education in Canadian public schools. And when it comes to universities, tuition fees are dramatically lower for permanent residents compared to international student rates. For example, the University of Toronto fees for a Computer Science program for 2018–2019 are C$6,780 for domestic Year 1 students and C$49,800 for international Year 1 students.
Travel
As a permanent resident, you may travel inside and outside Canada. Some of the countries allowing visa-free travel to Canadian PR card holders are the following:
Antigua and Barbuda (up to 30 days)
Bahamas (30 days)
Costa Rica (30 days)
Cuba (30 days)
Dominican Republic (30 days)
Dutch Caribbean parts: Aruba, Bonaire, Curaçao, Saba, Sint Eustatius, and Sint Maarten (30 days)
Georgia (90 days)
Mexico (180 days)
Panama (180 days)
Peru (180 days for holders of China and India passports)
Philippines (14 days for holders of India passports)
Taiwan (14 days, online registration required, only applicable to Cambodia, India, Indonesia, Laos, Myanmar, and Vietnam passport holders)
However, to enter the US, you may need to obtain a non-immigrant visa from the American authorities.
Apply for Canadian Citizenship
If you have lived in Canada for at least 1095 days (3 years) out of the last 5 years, have filed your taxes during that time, have passed the citizenship test about Canadian history, law, and culture, and can prove your language skills, you have the right to apply for Canadian citizenship. The main benefit of being a Canadian citizen is that you will never be deported as opposed to being a resident.
Permanent Residents' Obligations
To keep your permanent resident status, you should meet your obligations as a permanent resident.
Travel with Your PR Card and Keep It Valid
You must carry and present your valid PR card when boarding a flight, train, boat, bus or any other commercial carrier to Canada. You may not be able to board without your PR card.
You are responsible to ensure that your PR card is still valid when you return from abroad and to apply for a new PR card when your current card expires. If it expires, it does not mean you have lost permanent resident status.
Do Not Leave Canada for too Long
To meet residency obligations, you can spend no more than 729 days (3 years) outside of Canada in every 5-year period. These days do not need to be continuous.
If you are outside Canada for extended periods of time, you can accumulate residency days if you are:
Traveling with a Canadian spouse or common-law partner, or
Are a child under 19 years of age accompanying a parent, or
Employed full-time by a Canadian business or the Public Service of Canada and are assigned a job outside of Canada, or
The spouse, common-law partner or child of a permanent resident who is outside Canada and who is employed full-time by a Canadian business or the Public Service of Canada
If you have been a permanent resident for less than 5 years and decide to leave Canada for an extended period of time, you should prove to Immigration, Refugees and Citizenship Canada (IRCC) that you meet your residency requirements. If you fail to prove it, immigration officers abroad will inform you in writing that you have lost your permanent residence status. You will be able to submit an appeal within 60 days of receiving the decision.
Pay Taxes
Canadian residents are taxed at the federal or territorial levels on their worldwide income as opposed to non-residents who are taxed only on Canadian-source income.
For instance, you will be responsible for paying taxes on any gains received in Canada and other countries including salaries, pensions, and gains on the sale of real estate within or outside Canada. Although there are double tax treaties, you may have to pay a lot as tax rates in Canada may be higher than in many other countries.
Respect Laws
You should respect all Canadian laws at the federal, provincial, and municipal levels. You will lose your status and will be removed from Canada if you commit an offence punishable by a term of imprisonment of at least 10 years. Examples of such crimes are assault with a weapon, causing bodily harm, sexual assault, break and enter, forging documents or credit cards, fraud or theft over C$5,000, trafficking in cocaine or heroin.
For instance, you may lose your permanent residence status and have to leave the country, if you commit a DUI (driving under the influence) offence or a cannabis-related crime inside or outside Canada. Cannabis-related crimes include illegally producing, distributing, selling, illegally importing or exporting cannabis or cannabis-related products across Canada's international borders. The maximum penalty for most impaired driving offences is 10 years, and most cannabis-related crimes have a maximum penalty of 14 years.
Permanent residents can also lose their status on other grounds, including international crimes, organized criminality, security grounds or misrepresentation.
Although you can apply for criminal rehabilitation, you need to wait 10 years after the crime was committed.