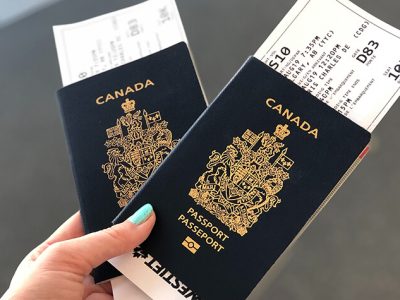 If you have a relative or friend in Canada, your chances of getting a guest visa are high, especially if you have an invitation letter. This article will tell you how to get a visa invitation letter with no trouble.
An invitation letter to Canada is a letter from a Canadian citizen or permanent resident who invites you to visit them in this country. With this document, your chances of getting approval from Immigration, Refugees and Citizenship Canada (IRCC) are higher. In this case, immigration officers will be informed of the purpose of your visit, your location in Canada, and of the fact that you will be provided with financial and social support while you are in the country.
Step 1. Visa Applicant Information
The inviting party must provide the following information about you as a guest:
Your full name, including middle name

Your date of birth

Your current permanent address and telephone number at which you can be contacted

Your relationship with the person inviting you (for example, a friend, brother or sister, cousin, etc.)

The purpose of your visit to Canada (e. g. tourism, family visits, etc.)

The length of your visit to Canada

The place where you will live in Canada (for example, with the inviting party or in a hotel)

How you will pay for your stay in Canada
Step 2. Inviting Party Information 
The inviting party must provide the following information about himself or herself:
Full name, including middle name

Date of birth

Permanent address in Canada and a valid phone number

Occupation in Canada

Status in Canada (citizen or permanent resident) with copies of supporting documents (Canadian birth certificate, Canadian citizenship certificate or a Canadian PR card). If the permanent resident has no PR card, he needs to provide a Record of Landing (IMM 1000) or a Confirmation of Permanent Residence

Information about the family of the inviting person, including the names and dates of birth of the spouse and any dependents

Total number of people in the family where you are invited, especially those who have been sponsored in the past for permanent residence, or those who are currently dependent on the sponsor
Sample Visa Invitation Letter
To whom it may concern,
This is to certify that John Smith will be visiting me in Toronto, Ontario, Canada from January 1, 2020 to February 15, 2020. John has been a close personal friend of our family for my entire life and will be staying at my home for the duration of his stay.
My address:
2558 Danforth Ave, Suite 202 
Toronto, Ontario Canada M4C 1L3 
Tel: 416-962-2623 
I am a Canadian citizen. Please find attached a copy of my Ontario birth certificate.
I live alone and have never sponsored anyone to Canada.
Kind regards,
Signature
Guest:
Name: Mr. John Smith
Address: 123 Street Name, London, UK
Date of Birth: Jan 1, 1960 
Telephone: +234-1234567
Relationship: Family friend
Step 3: Notarization of the Invitation Letter 
Once this letter is written, it should be sent to you directly or notarized.
You cannot know in advance whether the visa officer will ask for a notarized invitation letter. It is better to be on the safe side and have a notarized copy. You must notarize the letter of invitation if you have had problems with the Canadian authorities in the past.
Step 4: Sending the Invitation Letter
The person inviting you to Canada must sign the letter. Then you need to scan it and send it by email to avoid delays. Delivery by regular mail is possible, but it will take much longer.
A notarized letter must be sent by mail or by courier using the letter tracking function. You should not send it by regular mail, as the letter may be lost, and notary services will not be refunded.
You must submit the invitation letter with your initial Canadian visa application. There is no need to wait until the visa department asks you to send it. Otherwise, the processing of your application will be delayed.