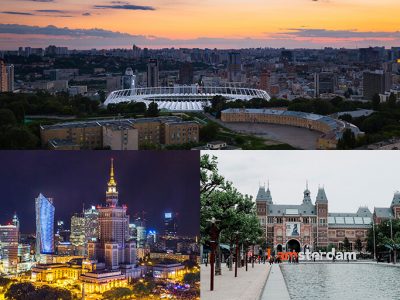 This summer, immigration officers and employers from the Canadian province of New Brunswick will hold three job fairs in Europe. 
In August 2019, New Brunswick is planning to hold job fairs in three European capitals — Kyiv, Warsaw, and Amsterdam.
The job fairs will take place: 
August 10, 2019, in Kyiv (Ukraine) 

August 12, 2019, in Warsaw (Poland) 

August 14, 2019, in Amsterdam (the Netherlands) 
Job fairs attendees will be able to ask immigration officers about settling in New Brunswick and have a chance to get a job offer from a New Brunswick employer. And having a job offer is the key requirement to apply for permanent residency under the Atlantic Immigration Pilot or the New Brunswick Provincial Nominee Program.
The event will include two stages:
Immigration officers will provide job fair participants with information about life in New Brunswick
After that, scheduled interviews with employers will take place
The job fairs in Kyiv, Warsaw, and Amsterdam will be attended by New Brunswick employers who are looking for transport truck drivers (NOC 7511). You can register for a job fair only if you have work experience in this occupation in the past 5 years. The province may add or remove occupations from the list.
Requirements for Participation in a Job Fair
To be able to attend a job fair, you will need to have the following documents:
Language test results

(IELTS, TEF or TCF with a minimum Canadian Language Benchmark (CLB) score of 4.0). If you have not yet received results in paper form, you can submit printed electronic test results. If you have not yet taken the test, you can still register, but you will have to explain to the immigration officer and employer that you are going to take the test in the near future

Proof of work experience

(a reference letter from an employer (preferably with information about salary), tax documents, payroll records). Work experience should be at least 1 year (truck drivers often require 18 months of experience) of full-time (at least 30 hours per week) paid work

Education credentials

(a certificate, diploma or degree)

CV in English

— you need to demonstrate that you meet the requirements of the occupation
If you have all documents listed above ready, it will raise your chances to be invited for a job interview and get a job offer. Since there is no definitive list of documents, you can take any others if you think that they will improve your chances.
For future immigration to New Brunswick, you will also need:
ECA

(Educational Credential Assessment) report. If you have not yet received a report in paper form, you can print an electronic version for a job fair. If you have not ordered a report, do it as soon as possible. You can register for the fair without a report, but you will have to order it anyway

Sufficient funds

to settle in the province
How to Register for a Job Fair
Before registering, you need to have at hand copies of the following documents in .jpg or .pdf format:
Page with a photo of your passport (required) 

Visa of the country of residence (required if you currently live in a country that is not a country of your citizenship) 

Language test results (required if you have passed a language test) 

ECA report (if you have it) 

Your spouse's CV (not required)  
To register for a job fair in a specific city, follow one of the links below:
Note that you can participate in a job fair is by invitation only. Not all registered candidates will receive invitations. You must bring a printed or electronic copy of the invitation as proof that you have been invited to the event.