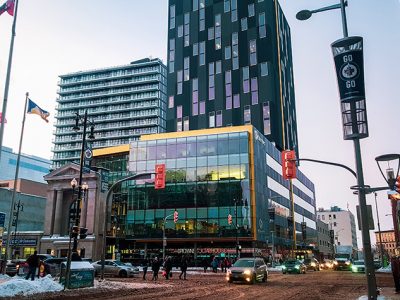 Starting November 15, the Manitoba Provincial Nominee Program (MPNP) starts accepting applications from French-speaking candidates interested in making a pre-arranged exploratory visit to the province.
These exploratory visits allow prospective immigrants applying under the provincial Skilled Workers Overseas Stream to explore employment opportunities and communities in the province and to make a well-founded decision about immigrating to Manitoba.
One of the requirements of the Skilled Workers Overseas Stream is to have a connection with Manitoba (work, studies, relatives, friends or an invitation). An exploratory visit is a way for immigration candidates to acquire this necessary connection with the province.
To apply for an exploratory visit, the Skilled Workers Overseas Stream applicants must meet the stream requirements (excluding the requirement to demonstrate a connection to the province). While making an exploratory visit, the candidate should pass a mandatory interview, which may lead to an invitation to apply for a provincial nomination.
Manitoba is home to one of Canada's largest French-speaking population groups outside of Quebec, although this number has declined in recent years. The 2016 Canadian census showed that 46,000 people in the province indicated French as their mother tongue, which is 3.6% less than in 2011.
Manitoba arranges trips in collaboration with the Economic Development Council for Manitoba Bilingual Municipalities (CDEM), which supports economic development in the bilingual communities of the province.
How To Apply
To apply for an exploratory visit to Manitoba, fill out the application form in French and submit it online. 
A provincial guide states that if you are selected for an interview, the CDEM will contact you directly. Do not send your application several times.
All applications will be reviewed in accordance with provincial needs. Selected candidates will get an official CDEM letter of invitation, which will allow them to apply for a Canadian guest visa (temporary resident visa) and make an exploratory visit to Manitoba.
Once you have received a guest visa, contact the CDEM to plan a visit to Manitoba. Please note that all expenses associated with the exploratory visit to the province are borne by the applicant.
You can find more information on exploratory visits to Manitoba on the provincial official website (in French).