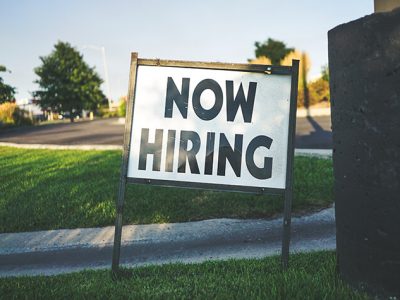 The Canadian private sector continues to experience a historically high staff shortage.
The latest report by the Canadian Federation of Independent Business (CFIB) says that about 433 thousand jobs in the private sector were not filled in the past quarter, which is about 1,500 more than in the Q2 2019, and 15 thousand more than this time a year ago.
"This is now the fifth consecutive quarter in which we're seeing a record high vacancy rate," said Ted Mallett, CFIB's chief economist. 
Job Vacancies by Province
Quebec has the largest number of job vacancies (4%). British Columbia comes second, with a 3.8% job vacancy rate. Ontario is in third place with a 3.2% vacancy rate.
Vacancy rate / number of vacancies by province:
Quebec: 4% / 119,800 

British Columbia: 3,8% / 71,400 

Ontario: 3,2% / 168,000 

New Brunswick: 3% / 7,200 

Manitoba: 2,6% / 11,400 

Nova Scotia: 2,4% / 7,500 

Newfoundland and Labrador: 2,3% / 3,300 

Saskatchewan: 2,3% / 7,900 

Alberta: 2,2% / 35,300 

Prince Edward Island: 1,9% / 900 
Job Vacancies by Sector
The report showed that in industries with a large number of small businesses, the share of job vacancies is higher than in large companies.
"The smallest of firms, those with fewer than five employees, are having the hardest time recruiting workers, with a vacancy rate as high as 5.4%," said Mallett.
This trend has led to an increase in the share of job vacancies in agriculture, information and hospitality industries between July and October 2019. However, the number of vacancies decreased in such sectors as manufacturing, wholesale and retail trade.
A significant increase in the job vacancy rate was observed in the following sectors:
Personal services (hairdressing, dry cleaning, funeral services): 4.9% 

Construction: 4.7% 

Hospitality: 4.0%

Agriculture: 3.7%

Information: 2.4%
Meanwhile, a steady decrease in the job vacancy rate is observed in the sectors such as: 
Transport: 3.4%

Manufacturing: 2.8%

Wholesale: 2.6%

Retail: 2.5%

Natural resources: 1.8%